Posts Tagged 'recipes'

Munching on chiacchiere for Carnevale is one of my almost-springtime traditions here in Calabria. In case you're not sure what they are: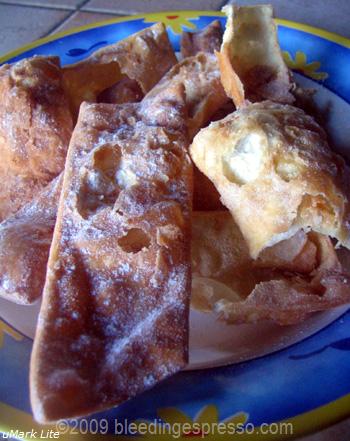 Chiacchiere: The traditional pastry for Carnevale.
Known by a ridiculous number of names throughout Italy such as Cenci (rags/tatters), Bugie (lies), Guanti (gloves), Nastri delle suore (nuns' ribbons), Fritelle, Crostoli, Frappe, and often called Lovers' Knots in English, these fried, powdered-sugar-dusted treats are just what the dottore ordered after a long, hard winter.
Maybe not so heart smart, but hey, that's why they're a treat, right?
Here in my corner of Calabria, they're called "Chiacchiere," which I like to think of as "chit chat" — these definitely make noises as you crunch into them (and you probably make some noises too as you shift wildly to avoid sprinkling your entire self with powdered sugar in the meantime).
A kind of Italian "snap crackle pop," kinda sorta.
Some recipes call for rum, whiskey, brandy, grappa, anise, or the like, and many are tied in knots, but the ones I've seen around here are just strips, so those are the instructions below.
P's mom doesn't make these, so I borrowed this recipe from my dear friend Mary Amabile Palmer's Cucina di Calabria: Treasured Recipes and Family Traditions from Southern Italy (a cookbook that I cannot recommend highly enough):
Recipe for Chiacchiere for Carnevale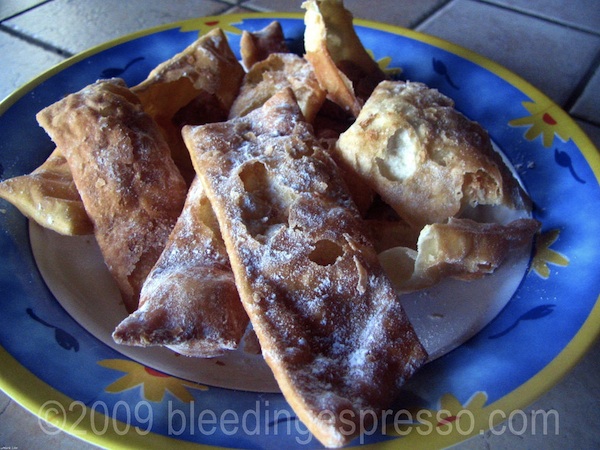 3 tablespoons melted butter
1/4 cup sugar
3 large eggs, well beaten
1/2 teaspoon vanilla extract
2 cups flour
1 teaspoon baking powder
1/8 teaspoon salt
zest of 1 small lemon
1 to 2 teaspoons milk
Vegetable oil for frying
Powdered sugar for dusting
1. In large mixing bowl, cream together butter and sugar.
2. Add eggs and vanilla and mix thoroughly.
3. Add flour, baking powder, salt, and lemon zest and mix well.
4. Place mixture on lightly floured surface and knead for 6 to 8 minutes until the dough is soft, smooth, and elastic. If dough is hard, add 1 to 2 teaspoons of milk.
5. Form dough into ball, place in greased bowl, turn to coat, and then cover with towel and let stand for 10 minutes.
6. Roll out into sheets, 1/8 thick. (I've seen other recipes that recommend folding the dough over and doing this a few times, but you can use your judgment.)
7. Cut dough into 3 by 5 inch strips. Put a small slit in the center of each strip and twist slightly.
8. Deep fry strips of dough for 1 to 3 minutes until puffed and golden. Remove from oil and place on paper towels to drain.
9. When cool, sprinkle with powdered sugar.
I don't think I have to tell you that I think these are great with espresso, do I?
Buon appetito e Buon Carnevale!
Have you had these fried treats? What do you call them?
---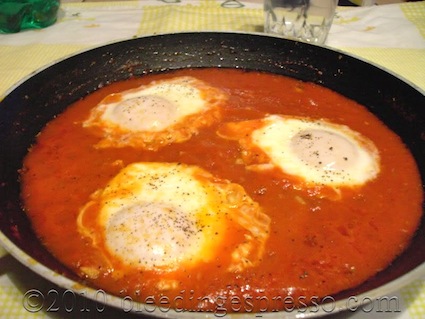 Because of this dish, I'll probably get a few hits from freaky religious people searching for their paths or their Truth or whatever, but so be it. Eggs in purgatory are gooood.
Besides, I've recently been found by someone searching for "the ledge freaky weird stevie fans stevie nicks," so I shouldn't so much worry about the religious nuts, right?
Welcome freaky religious people!
Today's What's Cooking Wednesday is inspired by the fact that P brings me at least 5 eggs every day.
We have hens you know. Although we give most of the eggs away, there's still an awful lot left over. And that allows one's imagination to run wild with visions of different egg plates.
And someday I'll show you the hens, I promise.
I remember my grandmother serving Eggs in Purgatory (which I've also seen called "uova fra diavolo") as a quick, light lunch or dinner — kind of something you make when you don't know what else to eat. But it could easily be an impressive looking appetizer for those who don't know just how easy the recipe really is.
As far as I know, this dish comes from Naples — if The Sopranos Family Cookbook says so, it must be true. Actually though, I assume my grandmother got this one from her father's side of the family, which was from a small village in the province of Salerno near Naples called Pisciotta. According to family lore, her father was also quite a cook, particularly with coniglio (rabbit).
If you already have leftover tomato sauce, by all means, just put that in a skillet and heat it up before breaking the eggs in. That makes this recipe *extremely* fast and easy.
For those who are doing this from scratch, though, I'll include a recipe for sauce here, which happens to be a basic pizza sauce. The oregano is what makes this fabulous, IMHO.
Uova in Purgatorio/Eggs in Purgatory
(serves up to 4)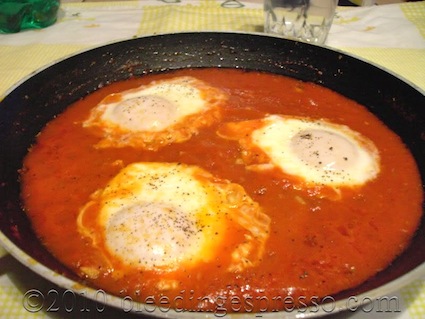 2 tablespoons olive oil
1 clove garlic, finely chopped
1 can peeled tomatoes, passed through grinder, or coarsely chopped
1/4 teaspoon dried oregano
Salt, black pepper, & peperoncino to taste
1-2 eggs per person (up to eight)
Freshly grated Parmigiano Reggiano cheese
1. Put the olive oil in a skillet large enough to hold the number of eggs you'll be making.
2. Sauté the garlic until over medium heat but don't let it burn.
3. Add the tomatoes, oregano, salt, pepper, and peperoncino and cook sauce for about 15 minutes or until it is thickened to your taste.
4. Once the sauce is ready, make little wells in the sauce and break in eggs one at a time. Grate a generous amount of Parmigiano Reggiano cheese directly on top.
5. Cover the skillet and let eggs cook until the yolks are to your desired runnyness (yes, that's a word for the purposes of this recipe).
6. Serve immediately with crusty bread. Grate more cheese on top if you like 'em cheesy like I do!
Buon appetito!
---
---