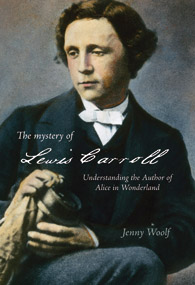 One of the best things about having this blog is the frequency with which I "meet" kind, like-minded people.
Case in point: A while back, I got an email from Jenny Woolf, author of The Mystery of Lewis Carroll: Discovering the Whimsical, Thoughtful, and Sometimes Lonely Man Who Created "Alice in Wonderland," who wanted to chat a bit about blogging, book promotion, and the like. I quickly offered Jenny space here to introduce herself and her book as I, too, was fascinated to learn about why she chose Lewis Carroll as her subject.
I became even more interested in the back story once I started reading through The Mystery of Lewis Carroll (Jenny had sent me a proof copy). I love biographies in general, and this one about a legendary literary figure who has been portrayed in so many different lights does *not* disappoint. Even though many scholars have written about Carroll, Jenny managed to uncover something that no other researcher ever had before. Fascinating!
Haus Publishing has kindly offered up a free copy of The Mystery of Lewis Carroll for one lucky Bleeding Espresso reader, but you must have a mailing address in the UK, Europe, or the Commonwealth (where the publisher has distribution rights). If you'd like to win a copy and meet this criteria, please leave a comment below by 11:59 p.m. on Sunday, February 21.
I will be announcing the winner on the Bleeding Espresso Facebook fan page and via Twitter @michellefabio. If you're not a fan or following, please correct that!
Here's Jenny, who you can also read at her blog, From Somewhere in Time and follow on Twitter @jennywoolf:

I loved Alice from when I was seven, and first became enthralled by her adventures. And I ended up writing The Mystery of Lewis Carroll because I wanted to know more about the man who had created my favorite book.
I started, like anyone would, by reading the biographies of him. But you know, I didn't entirely believe any of them. As a  journalist I'd written many magazine profiles, and I was well used to subjects and their friends trying to pull the wool over my eyes. So I wondered if Carroll had been using the Victorian equivalent of "spin" to hide various aspects of his own life.
I wasn't thinking of writing a biography at this stage – I just wanted to understand Carroll. So my next approach was to start looking for little-known and unpublished documents that might illuminate him more.
I had some luck when I found his personal bank account, unseen for over 100 years and mouldering away in a bank archive. With my husband Tony, I transcribed, annotated and self published it as "Lewis Carroll in His Own Account," and the BBC quickly got in touch and asked for a radio programme about it.
I did the programme . . . but I still didn't think of writing a biography.
No, I wanted to create a highly illustrated, imaginative and colourful multimedia project to describe Carroll – because by now I'd discovered he was actually a fascinating, unusual, likeable, (although tricksy and secretive) person.
But publishers are conservative creatures. In the end, my multimedia dreams evaporated and I ended up writing a biography after all.
Or almost. Actually I prefer to think of it as a portrait. Because it doesn't start at the beginning and end at the end like most biographies do. Instead, it takes ten important themes in Lewis Carroll's life, and examines what they meant to him. From Alice in Wonderland to photography, from his little girl friends to his religious and supernatural interests, from his family to his sex life, I hope that it will offer a glimpse of the kind of human, emotional, eccentric and utterly unique person that he was.
——
The Mystery of Lewis Carroll was published in the US on 2 February by St Martin's Press and will be published on 1 March in the UK by Haus Publishing.
——
Remember to leave a comment to win your copy! For those not eligible, please still feel free to leave your comment or question for Jenny–or even your own personal Alice in Wonderland memory (please tell me you're not eligible though)!
35 Beans of Wisdom to "Book Giveaway: The Mystery of Lewis Carroll by Jenny Woolf"
---