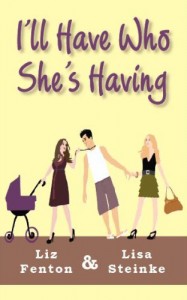 Remember when Lisa Steinke and Liz Fenton, authors of I'll Have Who She's Having, guest posted here a while back? Well here is my review of their book:
I'll Have Who She's Having by Liz Fenton and Lisa Steinke is fun, fast-moving read about two sisters who are struggling to find happiness—but looking in all the wrong places.
One is single and the other married, but the big thing they have in common is that neither is feeling particularly fulfilled; their searches lead them both to Tim, a hunky volleyball coach in whom they both see salvation.
As Scooby Doo would say, "Ruh roh!"
I really, truly enjoyed this book. The story is told from several perspectives, which I almost always love and certainly did here; the writing throughout is witty, snappy, and just plain fun to read.
I especially loved all the pop culture references sprinkled brilliantly throughout the book—describing someone as Jack of "Will and Grace" says so much in so few words. Yes, it places the book firmly in the time in which it was written, but it works, especially as those references made me feel like I was hearing the story from a girlfriend over the phone. And I love that in a book.
Great for the beach or a long cold night, this book had me furiously turning pages, deeply involved in the lives of Kate, Kelly, and the gang after only a couple chapters. In fact, I'm kind of hoping for a sequel. Hint hint….
I give it four espresso cups out of five—because I'm trying to convince the authors to fill that fifth espresso cup in a new book. Sequel! Sequel!
*
Subscribe to my Book Reviews feed — book reviews ONLY, which aren't published to the main feed — by visiting Feedburner.
7 Beans of Wisdom to "I'll Have Who She's Having by Liz Fenton and Lisa Steinke"
---