A little while ago, Cherrye of My Bella Vita wrote a Love Thursday post with Mickey Mouse love. Little did I know I'd soon have some of my own to share via a package from la Mamma.
I've never been to Disney World or Disneyland; heck, I actually avoid going into Disney stores to be honest with you. But there are some Disney things I do love, and one of those happens to be something that's been around for as long as I can remember: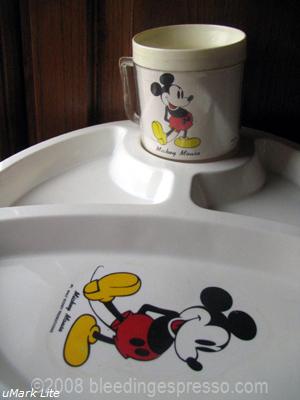 Faithful readers, this is my actual plastic plate and cup combo that I absolutely *loved* when I was just a wee espresso bean and not yet allowed to play with ceramic dishes. I had kind of forgotten all about it, but thank goodness moms do no such thing.
So thank you, Mom, for bringing a little childhood mouse love back into my life. I haven't used the plate yet, but you can bet your ears that I've been using the cup.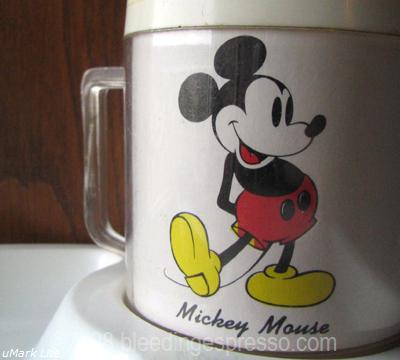 Whodathot cappuccino would taste even sweeter with a mouse?
Happy Love Thursday everyone!
Be sure to come back tomorrow for the O Foods round-up!
21 Beans of Wisdom to "love thursday: a mouse in my cappuccino"
---