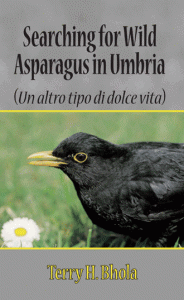 Searching for Wild Asparagus in Umbria (Un altro tipo di dolce vita) tells the story of Terry Bhola, a native of Trinidad, and his Italian wife as they adjust to life in a small city in central Italy. Bhola's honesty, openness, and unique perspective carry this book and make it an expat tale worth reading.
Indeed, if you enjoy memoirs that don't mince words or leave out the struggles of adjusting to a new language and life, you should consider adding this one to your to-read pile.
After having moved from Brooklyn to Milan — the heart of Italy's rat race (no offense to Rat, the author's cat) — Bhola and his wife picked up and followed one of those *feelings* that some of us expats know all too well. They soon found themselves dealing with a peculiar but kind community in Umbria, a tough job situation, and other common stresses of young married couples.
Bhola's experiences were not all "Under the Umbrian Sun" by any means, and in fact, the most powerful parts in the book were those in which Bhola's non-white status is addressed. It's no secret to those of us living in Italy that immigrants (or at least *some* kinds of immigrants) are not exactly a welcome group throughout the peninsula; Bhola, who has American citizenship, shares his experiences from a point of view sorely needed in the broader immigration dialogue.
I found some of the stories a bit disjointed, and the book could have benefited from tighter editing, but overall, while reading it, particularly the second half, I kept looking forward to delving back into this couple's life, flipping page after page, and to me, that's a good book.
Also, a bit of a warning label: Bhola's writing can be crude and/or crass in parts, so I feel it's fair to tell those of you who might be offended by off-color language. On the bright side, this casual style tells me that Bhola held nothing back in writing this book — plus he sounds like someone who'd be fun to chat with over a glass of wine, which are two great takeaways from any memoir.
Four espresso cups out of five.

To be honest, about halfway through the book, I would've given it 3 and a half cups, but right around that point, Bhola got into a storytelling groove, and I couldn't put it down the rest of the way. I mention this just in case you're reading and not quite feeling it through the first few chapters — give it just a bit more of a chance, and hopefully you'll be turning pages in anticipation just like I was.
*
Subscribe to my Book Reviews feed — book reviews ONLY, which aren't published to the main feed — by visiting Feedburner.
3 Beans of Wisdom to "Searching for Wild Asparagus in Umbria by Terry H. Bhola"
---