Welcome to Day 3 of our Q and A with Travel Writer Lara Dunston! Previous installments:
Remember that I'm giving away FIVE copies of Lara and Terry Carter's new guidebook, Travellers Calabria. See details here, but essentially you can comment every day this week for a chance to win Lara and Terry's book.
And don't forget to go back and comment on Sunday's post for a chance to win a Calabrian CD by the group Marasà.
Now, my interview with Lara continues (all photos provided by Lara and Terry). Are you paying attention aspiring travel writers?
5. Turning to your writing career, how did you get into travel writing?
I actually started out studying film production and cinema studies in Sydney, Australia, in the mid- to late-80s, and worked in media relations/PR to put myself through university. I made films, wrote film reviews for many years, and taught film – a combination of industry courses and film appreciation type courses for adult learners.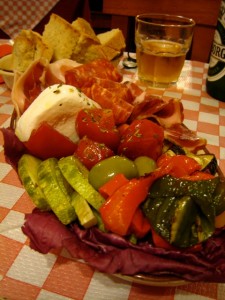 My greatest passions had always been film and travel, and after years of making short films, and then two years making my first feature film (which almost killed me), I started to re-think what I wanted to do.
I left my job, focused on freelancing, writing about film and teaching film mainly, but I also did a travel writing and photography course, and then a couple of tiny travel pieces for a publishing company Terry worked for, which at the time was Australia's largest publisher of maps, street directories, caravan and camping books. They offered us our first guidebook, the Sydneyside guide, which was Terry's idea, and it became part of their compact street directories and still exists actually.
Yet despite that fantastic opportunity, I didn't really get into travel writing then… I wrote a teen fiction novel, continued to write film reviews, and I stuck with film for a long time after.
I did a full-time Masters degree which took me to South America for the second year of the program to research Latin American cinema (my itinerary was dictated by the film festival calendar) and then returned to Australia to write my thesis, saw a job teaching media studies, film and writing at a women's university in Abu Dhabi, applied, got it, and we moved to the UAE in 1998.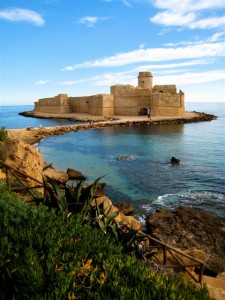 It was while we were there that we accidentally fell into travel writing again – we'd used a couple of dreadful Lonely Planet books; they were current editions but they were terribly out of date, and they really impacted the trip we did and the choices we made. I was complaining about them to my friend's sister who was in the UAE on holidays who worked for Lonely Planet.
She suggested we let LP know and forward in some notes and get some free books. So I did and they asked us if we'd be interested in writing for them. We wrote a sample, got approved, was offered the Dubai guide to update, then Syria and Lebanon, and that's how it all started…
The first book we did was during our summer vacation (I used to get two months off every summer, and a couple of weeks for winter, plus lots of Islamic holidays!) and I was considering leaving my job at the time, so we took on more writing work. But then out of the blue came a promotion to run the media department at the women's campus for the same institution in Dubai. I'd been teaching at a tertiary level for 5 years then, so it was a great opportunity, so I took it.
So Terry, who'd been working as a multimedia designer suddenly found himself virtually working as a full-time travel writer, and he did the bulk of quite a number of books with me just writing chapters on shopping and entertainment, some of the sights, and other fun bits and pieces, as well as editing for him.
Two and a half years later I was ready to leave my job and – as we had a lot of writing offers, a whole year's worth of books in fact – we decided that I would quit my job, we would put all our worldly possessions in storage in Dubai, and we would travel for a year as an experiment to see if we could live out of our suitcases, make a success of travel writing, and survive as a couple, and then we'd settle down and write a book about the experience. The problem was we kept getting all these enticing offers to travel to interesting places, so three and a half year's later, we're still on the road…
6. What are your favorite and least favorite parts of the job?
The research is definitely my favorite bit. It's exhausting, because you work seven days a week and generally work 14 hour days on a good day, often longer, especially if you're doing a city guide and you have to stay up late to check out bars and clubs then get up early to check out markets, then museums and shops, then restaurants… it doesn't stop.
But I love being on the road and travelling around and exploring a country or region, and if it's one you know but you don't know intimately, then that chance to fully discover it and become familiar with it and make friends with locals is just so rewarding.
When you've done that so many times in so many countries – we've travelled to 60 countries now – you really become so attached to places that they all feel like your second homes, and you do feel like a citizen of the world. I love that feeling.
A downside, however, is that unlike an expat of one country, who might keep up with the news in their new home as well as their country of birth, I find myself – no matter where we are – constantly checking up on what's going on in Italy, Syria, Lebanon, Argentina, Thailand, the UAE, and of course, my place of birth Australia. Sometimes I feel like I'm suffering from global information overload!
I also love the writing, although that stage is completely different to the research, because when you're researching you're constantly mobile, whereas when you're writing you're sedentary, chained to a desk for months and you're working the same kind of hours seven days a week.
But when you're writing – whether it's a magazine story or a guidebook, you're re-living the experience, and you're trying to write in such a way that inspires readers to go there, while honestly evoking the place for them.
It can be a challenge because nobody wants to write negatively about anything (our job is to sell destinations and therefore help sell guidebooks or magazines after all) but at the same time nowhere is perfect and you don't want people to build expectations and then be disappointed, so we're always honest in our writing.
My least favorite part of the job is the editing process. That's the only part of the job that isn't always enjoyable. It's totally dependent on who you're working with. There are some editors I absolutely love working with and some publishing companies seem to have better editors than others, perhaps because they pay them more.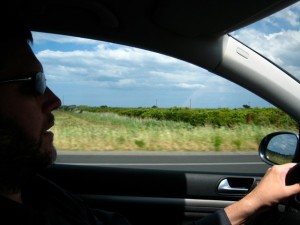 The good editors are intelligent editors who ask smart questions – they tend to be widely travelled and yet they understand the brand of the book and the needs of a reader and what they want from the text, but they also understand the needs of the writer and appreciate when they might be on the road and can't access the internet, that they might be rocking up to a hotel at 9pm, eating at 10pm, then crashing, only to have to get up at 6am and hit the road again, so they know you might not be able to turn text or enquiries around fast.
They also know that you've slaved away doing research on the road for this book for months – and if you actually divided the fee by the number of hours actually worked, it doesn't seem so generous after all, that we've actually worked for a pittance – and some editors respect this and are more sensitive about the questions they ask.
Fortunately we've worked with a lot of great editors, especially at DK, also AA Publishing, and some Lonely Planet editors were great.
But we've also worked with some bad editors. The worst kind of editor is the one that is ignorant about the place, hasn't travelled much, and asks pointless questions. Some seem to be justifying their jobs by making changes for the sake of change – it can be especially frustrating when they insert errors or change the text so that it's wrong.
I'm not so concerned about my own writing, I got over being precious about my writing a long time ago – but I ask myself what makes the most sense to the reader, what's going to help the reader out most, and if I think it still makes sense to the reader, I let the change slide, if it doesn't, then I'll argue it.
But once you do that, things always become unpleasant, the writer is perceived as being a pain-in-the-butt, and you probably won't work with that editor, or get a job from the commissioning editor again.
Thanks so much for this inside look into life as a travel writer, Lara. Readers, stay tuned for more Q and A tomorrow!
Be sure to leave your comment and tweet or post to Facebook to maximize your chances of winning a copy of Travellers Calabria! See contest details here.
21 Beans of Wisdom to "Travellers Calabria Contest: Q and A with Travel Writer Lara Dunston Part 3 of 5"
---