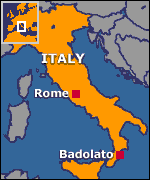 Ready for some history?
Badolato Basics
My village, the birthplace of my great-great-grandfather, is Badolato, and it's located between the Ionian Sea and the Serre Mountains in Calabria, the toe of Italy's boot.
Badolato, the meaning of which is in dispute (sorry, only in Italian) was founded in 1080 by conqueror and first Duke of Calabria Robert Guiscard, who along with his brother, took over southern Italy and Sicily for the Normans around that time.
Like many villages of this period, Badolato was built on a hilltop about 5 kilometers from the sea with a good view of any approaching ships. Staying too close to the water was considered dangerous not only because of potential invasion–the southernmost part of the peninsula was the gateway to the entire territory now known as Italy and the rest of Europe–but also because of malaria, which was quite common as some of the area was swampland.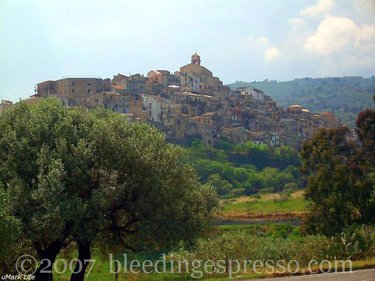 View of Badolato Superiore from the winding road leading up to the village.
And so, Badolato was built as a walled city, encircled by stone and guarded by three watchtowers, one of which is still partially standing (below); the town crest honors these watchtowers and the village's medieval history.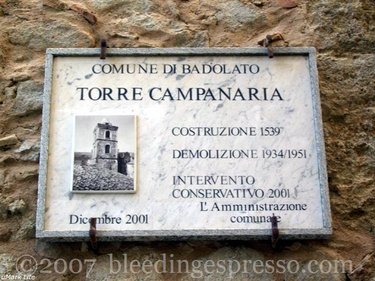 Many of the original walls around the village as well as the old gates that sealed off the city from invaders also remain, but a castle on a hill that was once the town's centerpiece (thus the name of the main square Piazza Castello) had to be torn down in the 1970s for safety reasons. Previously, it had cast a shadow on all that was below it, as castles are wont to do.
The piazza is now alternately called Piazza Fosso—fosso referring to the huge hole left behind by removing the hill and castle (it didn't create a hole really, only leveled off the hill the castle had been on).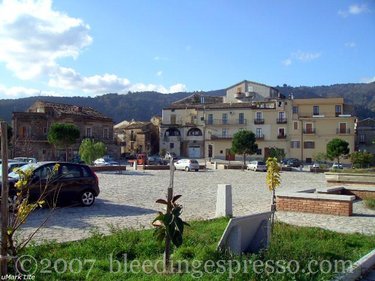 Political, social, and agricultural history
As rulers changed throughout southern Italy (German, French, Spanish, Turk, Austrian, Bourbon) Badolato felt each influence in turn, which you can hear in Badolatese, the main tongue spoken around here (a version of the Calabrian/Sicilian language, which some (mistakenly) call a dialect), and taste in the traditional Calabrian cuisine, noted for its fondness for the peperoncino, brought back to Italy by Columbus, although also widely used by Arabs who settled here.
Badolato soon became one of the most prominent and wealthiest cities in what is now southern Italy, swelling to a population of 8,000 (some estimates say up to 12,000) and boasting the palazzi of some of the most influential families in southern Europe, mostly due to production of olive oil, wine, and citrus fruit.
The family of the former baron of Badolato still owns a palazzo or two (although they don't live here full-time) as well as a grand villa that sits on a huge chunk of the land surrounding the village. Almost all of the land around Badolato is still farmed, including that of the former baron, but most of it is was broken into smaller plots as the feudal system died down around the turn of the 20th century.
Incidentally, on the bigger plots, some families built workhouses (no plumbing, electricity, etc.), but still today it is rare for Calabrians to consider actually living on that kind of open land (most prefer village life and traveling by car or by foot to their land). Indeed getting permits to build is difficult as the land is zoned agricultural. Unless it has some existing structure (at least the remains of a wall!), it's illegal to build a house on these land plots–which means no subdivisions in Calabria's future. No complaints here.
Religious heritage
Badolato's importance and deep religious and spiritual history are represented by its 13 churches and 17th century Convento Santa Maria degli Angeli, once a monastery but now a drug and alcohol rehabilitation treatment center; residents produce their own food on site and even operate a restaurant.
Convento nestled among olive trees
(You may remember this old monastery from the Easter procession)
Some say that it's possible that the Holy Grail was transported here and may still be buried underground somewhere. In 1070, a group of Calabrian monks went to France and established the Ordre de Sion, which later became the Priory of Sion of Dan Brown's Da Vinci Code fame–said to be the keepers of the Grail. The Calabrian monks returned to Calabria in 1090 but no one knows what, if anything, they brought with them from France; could they have incorporated valuable Christian artifacts into the underground ducts and tunnels of a blossoming Catholic stronghold called Badolato?
Effects of emigration
Like many southern Italian towns, Badolato was a victim of emigration, largely abandoned during two major waves of flight: the first in the early twentieth century (when my family left) and the second after World War II.
In both instances, emigrants were looking for better opportunities, but especially after the second World War when southern Italy was truly war-torn and downtrodden; my 82-year-old neighbor has sung for me a children's rhyme that complained to Il Duce, Benito Mussolini, that they were living the day without bread and the night without lights (u jornu senza pane, la notte senza luce). A flash flood that wiped out a part of the village in the 1950s surely made the decision to leave easier for many.
Badolatesi fled to, among other places, the United States, Canada, Argentina, Brazil, Germany, Switzerland, and Australia, many leaving behind their homes with only whatever they could carry, never to return.
Others moved just down to the coast, where Badolato Marina was being built in the 1950s–living nearer to the water was now considered safe, plus coastal life was also more convenient with the railroad and highway running through there.
Indeed, P's mom remembers where there wasn't even a paved road leading down from the mountain village to the sea–I've yet to walk the path, but it's still there–and anyway, there were only a handful of cars in the village even in to the 1960s, so you can that imagine folks tended to stay close to home.
Because of this mass emigration, the population of Badolato Superiore now stands at about 350 (total population with Badolato Marina is around 4000). This set-up is quite common throughout southern Italy, by the way, so that you'll often see a "Superiore" town up on the hill/mountain, and its counterpart closer to the sea with "Marina" or "Lido" after the name.
Badolato Marina
(Sorry for the poor quality here; it's an old scanned photo of mine)
The Ship of Kurds
Badolato had fleeting hope of a boom just after Christmas 1997 when 825 Kurdish refugees landed on its shores; this made international news and you can read more about it here (the man on the left in the third photo is my vicino Giuseppe!).
The Badolato community welcomed the Kurds as potential workers and young revitalizers of the old town. The new immigrants are mostly gone now, though, either deported or having left for Germany, France, or elsewhere in the EU for work.
Still, Badolato remains one of the most involved immigration centers in all of Italy in so far as welcoming migrants and helping them with housing, health care, work, and psychological adjustment to life in a new country; one of my translation contracts with the local health care agency involves a special EU project to include cultural and linguistic mediators in this process.
Current and Future Badolato
And yet Badolato remains largely empty, like the village Farfallina wrote about, although the population swells enormously in August when many return to their hometown from Germany, northern Italy, etc., for ferie–Calabria, generally, is quite a hot spot for Italians and other Europeans looking for great, clean beaches.
Even the New York Times agrees.
Photo © Franco Muìa
Badolato is undergoing a revitalization, though, as there have already been quite a few properties sold to international buyers over the years; casa by casa things are looking more lived in, although I'm the only year-round foreigner who lives here (Badolatesi would say the transplants from Genoa, Naples, and elsewhere in Italy are also stranieri, but I'm the only non-native Italian).
There is a lot of potential here for tourism, as you can probably imagine, although there would need to be a lot of infrastructure work done first–getting here and getting around isn't always easy. No one wants to commercialize the town to the point that it's another Siena or Cortona, overrun with tourists, but a few more visitors, a few more people who want to experience the real Italy complete with women carrying baskets on their heads?
Well that would be nice.
We may not have much support from the government, but we do have green mountains, a clear blue sea, fresh mountain air and water, warm souls, and delicious, fresh food, and for me, that's certainly plenty.
Final Notes
For those of you who have made it this far (thank you!) and still want more, you can see more photos under the Scenes from Village Life label, my first Virtual Tour, and the two most recent posts: Destination Calabria: Photo Tour of a Medieval Village (Part I) and (Part II).
And if you want to plan a trip, just let me know!
60 Beans of Wisdom to "Badolato: Into The Heart of Calabria"
---