Walking & Cooking Tour
From April through October, Travel Calabria offers the 8 day / 7 night Discover the Ionian Side of Calabria: Walking & Cooking Emotions Tour, which features treks through villages on the Ionian Coast, a visit to the area's largest open-air market, two cooking lessons, and much more!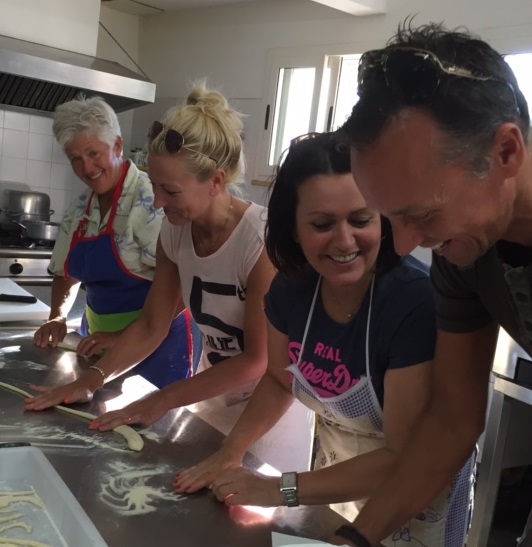 ITINERARY
Day 1: Arrival in the afternoon at Lamezia Terme airport and transfer to Badolato. Check-in at our accommodation in the old medieval village. Welcome dinner and overnight.
Day 2: Buffet breakfast. Urban Trekking: in the morning you will enjoy a three-hour walking tour of BADOLATO, an old medieval village perched on a hill at 250 meters above sea level. Visit of the Monastery of "S. Maria degli Angeli," the Church of Santa Caterina, the Church of Immacolata and the Bell Tower. Local food tasting at "catojo," a typical local wine cellar, and meeting with Terra Madre/Slow Food Community of Badolato. In the afternoon meeting with our chef at "Catojo dello Spinetto." Dinner and overnight.
Day 3: Buffet breakfast. Transfer to Davoli. Trekking excursion through the hills, inland along Mellis river, towards the historical centee of Davoli. Along the way special tasting of "mpanata" (typical shepherd breakfast). Light lunch at a local restaurant. Guided tour in Davoli. In the evening transfer to Badolato and relaxing time. Dinner and overnight.
Day 4: Breakfast at a local bar. Transfer by public bus to Soverato. Visit of the farmers open-air market with Jess McMurray, discovering typical colors, smells, and tastes of local products. Shopping and lunch in a fish restaurant. In the early afternoon, transfer back to Badolato and cooking lesson with Jess at Villa Francesca. Dinner and overnight.
Day 5: Buffet breakfast. Transfer to Chiaravalle Centrale (a little town above Soverato). Trekking excursion along the ancient railway Calabro-Lucana from Chiaravalle to Petrizzi, visiting the ancient monastery and old tunnels. Brunch. In the afternoon transfer to Badolato and visit of the olive groves of Zangarsa and "frantoio", tasting of extra-virgin olive oil with homemade bread. Dinner and overnight.
Day 6: Buffet Breakfast – Transfer to the beach of Badolato Marina and relax. Light lunch with seafood. In the afternoon, Mediterranean Cooking Lesson at Solesi with a skilled local housewife, learning nonna's recipes, including homemade pasta and traditional Calabrian dishes. Tasting of the dishes and farewell dinner party. Transfer to Badolato and overnight.
Day 7: Buffet Breakfast, check-out, and transfer to Lamezia Airport and end of our services.
For more information, contact Travel Calabria and tell them I sent you!
Check out the rest of Travel Calabria's offerings.
---