Expat Tax Help
* Bleeding Espresso is an affiliate of both ExpatriateTaxReturns.com and Taxes for Expats, which means I receive a referral fee if you sign up for their services by following a link from this page. Thanks! *
*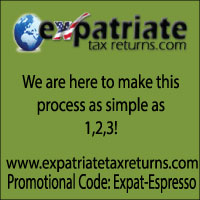 ExpatriateTaxReturns.com is a USA-owned and USA-based Internet company that serves American expatriates all over the world. They are professional and experienced tax preparers helping US citizens, green card holders, and non-resident aliens file their US tax returns for whatever reason necessary.
Expatriate Tax Returns professionals are eager and willing to help you get up to date with your current or past tax filing requirements, painlessly and reasonably; they are also helpful, knowledgeable, efficient, and available to you all day, everyday.
Be sure to use my personal referral code, Expat-Espresso, at checkout to get a discount!
*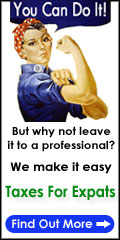 Taxes for Expats is a tax preparation firm specializing on American citizens living abroad. They have over 20 years experience preparing taxes for US expatriates.
This focus enables them to provide best in class service at prices that are significantly lower than the competition, i.e., a Flat Fee of $349 for personal tax return (all forms included).
They offer the same level of service online that you would receive by visiting the office – without having to leave your house.
Their web site is one of the best resource for US expat tax information – explaining all the rules and regulations that apply to you. Visit www.taxesforexpats.com – to learn more.

---