Calabrian Table Tour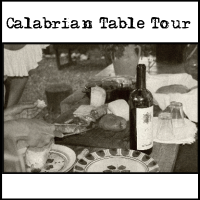 Fellow Calabria residents Cherrye Moore of My Bella Vita and Tania Pascuzzi of In Italy Tours have put together the Calabrian Table Tour for adventurous travelers who want to get to know the region of Calabria a bit better.
The tours are offered each April and October, and the itineraries feature stops from Italy's largest national park in the northern Calabria to the rugged coastline of the sun-kissed south.
Of course the featured activities change with the season as the ladies have handpicked their favorite towns and villages, many of which you'd never find in a guidebook, so you can experience a comprehensive, authentic culinary experience.
If you're interested in having Cherrye and Tania guide you from table to table and introduce you to local friends, chefs, and cooks in the region, visit the official page of the Calabrian Table Tour — and be sure to them that Michelle Fabio of Bleeding Espresso sent you!
---