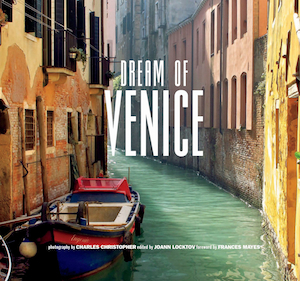 Dream of Venice delivers exactly what you want from a coffee table-type book — gorgeous photographs with just enough words to complement them as you page through, lingering on the images and phrases that speak most to you.
I've flipped through this book probably ten times since receiving it, and each time, something else has called out to me . . . and always made me long for a weekend getaway to Venezia.
The book offers various Venice scenes captured perfectly by photographer Charles Christopher, providing the reader natural, unique perspectives of the city. Images are in both black and white and color and depict vibrant daytime as well as the magical Venetian nights.
The contributions of many of La Serenissima's admirers, compiled and edited by JoAnn Locktov, frame the photos with sensory words like "kaleidoscopic," "rhythms," and "musty," but my favorite, I think, comes from Peggy Guggenheim. She invents the word "floatingness" to describe the "essential quality of Venice":
Here everything and everyone floats. Not only the gondolas, launches, barges, vaporettos, and sandalos but also the buildings and the people float. One floats in and out of restaurants, shops, cinemas, theaters, museums, churches and hotels. One floats luxuriously with such a sense of freedom, never tormented by the traffic or even disturbed by the sound of a klaxon.
Dream of Venice beautifully represents the soul of the city from its mysterious alleyways and winding canals to its humanity and vitality. And the quality of the book itself is simply superb.
Any lover of Italy, especially Venice, would love a copy of this book. Highly, highly recommended.
[A portion of the proceeds of the sale of this book is donated to Save Venice, an organization dedicated to preserving the artistic heritage of Venice.]
** NOTE: I received a review copy of this book from the author; the opinions expressed are my own. The links in the post above are affiliate links, which means if you click on the link and purchase the item, I will receive an affiliate commission.
 ***CONTEST ***
Open worldwide!
To enter to win a copy of this gorgeous book, simply comment below with your best Venice memory or what you would most look forward to on a trip to Venice. I will choose a winner at random.
Ends Wednesday, April 1 at midnight Italy time (no joke! ha!).
In bocca al lupo!
45 Beans of Wisdom to "Dream of Venice by JoAnn Locktov"
---