The following post has been sitting in my drafts folder since January 2012  . . . and let me tell you, finding it and re-reading it NOW is exactly when I needed to do so. Gotta love good irony.
Here goes:
Let me share something I've learned and which has recently been reinforced through my latest obsession: listening to the WTF Podcast with Marc Maron.
Everyone who has ever achieved any kind of success got there in his or her own way.
Sounds simple, right?
From the outside it often seems like it was, the attainment of success, but Maron's podcast does an awesome job of delving into the back stories of some of the most successful people in comedy (and other careers), and I have yet to end a podcast feeling uninspired.
Whether it's someone's general outlook on life or a specific risk she took or a story about how someone gave him a shot seemingly out of the blue or about how she followed her gut to do a project that wasn't financially lucrative but promised work with a particular person she admired–there's always something that makes me stop and reflect.
One thing all the interviewees have in common is that their paths were not only different but also rather unpredictable.
And for each person, at some point, they had to figure out what worked for THEM.
Not what everyone else was doing, not how they could fake or schmooze their way to the top, not how they could follow a formula, but how they could turn their own talents, skills, work ethic, and passion for what they were doing into something truly magical.
They had to think outside the box of conventional wisdom and do their own thing, encountering a lot of twists and turns along the way, thereby making their trajectories to success resemble more an S than an I.
In other words: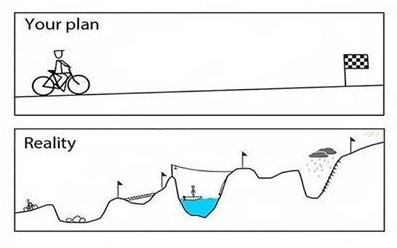 So, yes, I highly recommend giving a listen to the podcast, especially to episodes like Louis CK, Ben Stiller, Robin Williams, and Judd Apatow. The podcast is free, but these older episodes require a premium membership purchase. Note, also that my mention of Robin Williams was in the original draft of this post; my recommendation is even more strong now since his passing. What an amazing man.
Here's to making your own path and not being bogged down thinking about what others are or aren't doing on theirs.
You got this.
2 Beans of Wisdom to "Finding Your Own Path via WTF"
---