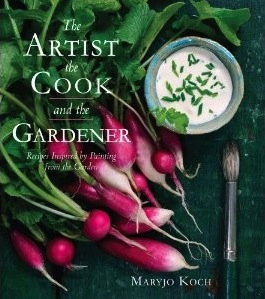 The Artist, the Cook, and the Gardener: Recipes Inspired by Painting from the Garden by Maryjo Koch is a gorgeous celebration of food and art.
The book is described as "[a] lavishly illustrated, sumptuous collection of recipes celebrating the enduring connection between art, cooking, and gardening, inspired by the seasonal bounty of homegrown fruits and vegetables or just-picked produce from local farms," and it very much delivers on all fronts.
Recipes are divided by season in that the winter garden is utilized in soups, the spring garden in salads, the summer garden in sandwiches, pizzas, and savory tarts, and the fall garden in sweets. The selections are based in simple, fresh ingredients, and none of them had me turning my head sideways wondering what the recipe-developer was thinking — quite a rare occurrence for me these days when paging through new cookbooks, unfortunately.
The photographs, paintings, and musings throughout the volume add charm, elegance, and sheer beauty, making this an impressive book on several levels. I would highly recommend this for anyone who enjoys seasonal eating and cooking, gardening, and art of any kind — and obviously as a gift for any such person as well.
** NOTE: I received a review copy of this book from NetGalley; the opinions expressed are my own. The link in the post above is an affiliate link, which means if you click on the link and purchase the item, I will receive an affiliate commission.
---