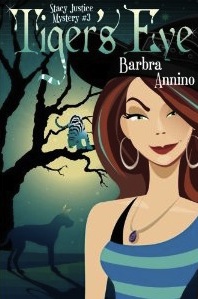 Tiger's Eye is the third installment of the Stacy Justice Mystery Series by Barbra Annino, and if you've enjoyed the first two (Opal Fire and Bloodstone), you're going to love this one as well.
In Tiger's Eye, Stacy Justice continues to come to terms with her witchy heritage as she confronts the possibility that her father's accidental death was actually murder. A white tiger continues to appear to Stacy, and while she struggles to understand its significance, she must face various other obstacles and challenges from being shot at in a junkyard to a yippy little chihuahua that seems to have her number.
Quite simply, Annino has done it again — managed to weave together a bewitching, captivating, funny mystery while further developing her quirky characters, both those still around and those MIA in one way or another.
Let's cut to the chase (no pun intended as Stacy's boyfriend's name is Chase):
I've said it before, and it still holds true — I just love Annino's writing style and wit. If you haven't been reading this series of books, I highly recommend jumping on the Stacy Justice bandwagon now; Annino is primed to become a major player in the cozy mystery game. I can't wait to read the next one.
** NOTE: I received a review copy of this book from the author; the opinions expressed are my own. The link in the post above is an affiliate link, which means if you click on the link and purchase the item, I will receive an affiliate commission.
---