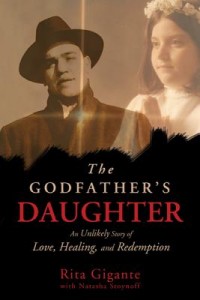 The Godfather's Daughter: An Unlikely Story of Love, Healing, and Redemption is the memoir of Rita Gigante, daughter of Vincent "Chin" Gigante, the former head of the Genovese crime family in New York City.
Rita's tale isn't one of a lavish lifestyle and the kissing of rings, however. Her father was never one to bask in the wealth he surely must have accumulated. Instead, Gigante famously feigned mental illness for years in order to try to avoid eventual prosecution; he'd walk the streets in his pajamas and talk to parking meters. In other words, not much glamour there.
Accordingly, Rita's childhood was lived partially in what she calls the "dungeon," her grandmother's place in the city that was kept dark to keep out any prying eyes, and New Jersey, where Gigante kept one of his two families. Biological families, that is, not crime families.
Growing up the daughter of The Chin, Rita became a master secret keeper — she had no choice, really — but that ability was put the test when she realized she was gay. The Godfather's Daughter traces Rita's life from her earliest (suppressed) childhood memories through her struggles with her Catholic faith and coming out to her family and finally to her finding her calling, using her hands to heal people.
Rita had to fight her way out of both the literal and figurative dungeon of her family's pull, combating lies, violence, and illness along the way; she tells this story of her path to finding and living her own truth beautifully in The Godfather's Daughter.
Although some parts got a bit repetitive and the writing itself isn't necessarily award-winning, this book tells a gripping tale that kept me turning the pages. Toward the end, Rita (and therefore the book) becomes quite spiritually charged as she participates in "laying on of the hands" rituals and recounts conversations with her father from beyond the grave. I mention this because those whose minds aren't open to such things may not enjoy the latter half of this book. I'm not a believer myself, but I love reading about other's experiences with their spirituality, and that is where this book really shines — in the tale of Rita's spiritual growth from an indoctrinated Catholic girl to an independently thinking woman who still seems to carry strong Catholic faith, with some decided twists.
I would highly recommend this book to anyone interested in the topics of organized crime (particularly regarding how it affects families), sexual orientation/coming out stories, and spiritual and religious growth.
** NOTE: I received a review copy of this book from NetGalley; the opinions expressed are my own. The link in the post above is an affiliate link, which means if you click on the link and purchase the item, I will receive an affiliate commission.
---