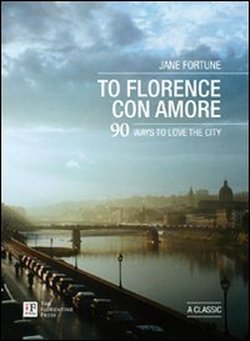 Jane Fortune fell in love with Florence when she spent her junior year of college abroad there and has since become extremely involved in researching, restoring, and exhibiting works of art by women in Florence as the founder and chair of The Florence Committee and Advancing Women Artists.
To Florence Con Amore: 90 Ways to Love the City is, just as the name suggests, Fortune's heart-filled ode to bella Firenze, and anyone who plans on visiting would be well-served with a copy.
In this 240-page, illustrated, full color volume published by The Florentine Press, Fortune shares with readers nearly 100 suggestions for how to truly appreciate the city; these are broken down into categories, including the following:
Cultural gems
Places to see frescoes
Historic theaters
Schools of art
Restaurants
Ideas for day trips from Florence as well as for "free afternoons" are also included.
Of course you'll find the usual haunts — the Uffizi, the Duomo, Santa Maria Novella — but chances are good that even if you've been to Florence a few times, you'll discover some lesser-known treasures such as the Chiostro dello Scalzo (featuring the amazing neutral-colored monumental frescoes of Andrea del Sarto), Casa Guidi (where Robert and Elizabeth Barrett Browning wrote many of their most famous poems), and Museo Stibbert ("a true celebration of the history of costume"), as well as plenty of unique tidbits and observations about Florence, its art, and its beauty.
Lest you are envisioning a guidebook, though, kindly remove that image immediately. This book is vibrant, lively, and colorful throughout with every page covered in an image, information contained in a white box inside it — a visual playground! And the text perfectly compliments the beauty of the images; each and every word in To Florence Con Amore packs a picturesque punch.
I've learned more about Florence from reading this book than I ever have from guidebooks, but beyond that, I've never felt more of a desire to go and begin my affair with the city — and that's all thanks to Fortune. She writes from a place of love that shines through on every page as she generously offers up, through her eyes and heart, *her* Florence. I imagine it would be difficult for anyone to not fall in love with the city after flipping through this book.
Five espresso cups out of five.
Simply a must-read for anyone who, is ready to fall in love with or is already innamorato/a di Firenze.
*
Subscribe to my Book Reviews feed — book reviews ONLY, which aren't published to the main feed — by visiting Feedburner.
2 Beans of Wisdom to "To Florence Con Amore by Jane Fortune"
---