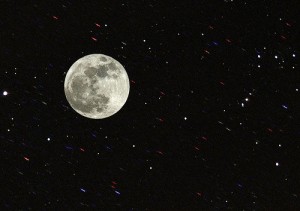 Let's cut right to the chase here: many of you reading this weren't even alive on July 20, 1969.
Neither was I.
And for that reason, it's simply impossible for us, who have always known moon landings to be possible but have never seen one live, to grasp what those days leading up to the Apollo 11 mission felt like and the wave of emotions that swirled through the 500 million people watching Neil Armstrong take his "one small step."
But that doesn't stop me, who has always had a fascination with the final frontier, from trying to imagine.
And one summer day in 2006, I got a little help from my old friend William, he of the orgasmic Ionian Sea view.
In one of our many morning conversations over cappuccino the year before, I had told William that one of my earliest career aspirations had been to be an astronaut; I waxed poetic about Space Camp in Huntsville, Alabama (surely a uniquely American concept, no?), and how if I had been able to attend (it wasn't even remotely financially possible), my whole future coulda woulda shoulda blah blah blah.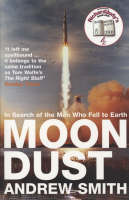 Well, when William came back down here the following summer, he brought me a copy of Andrew Smith's Moon Dust: In Search of the Men Who Fell to Earth from England; I had never even heard of it. He insisted that it was all the rage in the UK, and, indeed, it was shortlisted for the British Book Awards Best Read of 2006.
Moon Dust is Andrew Smith's account of what has become of the remaining Moonwalkers–only nine of the twelve men who have walked on the moon's surface from 1969-1972 are still alive to tell their stories.
Smith was inspired to pursue this idea because of what happened during a 1999 interview with Charlie Duke, who became the 10th man to walk on the moon with Apollo 16. In the course of the meeting, Duke received a call with news that Pete Conrad, third man on the moon with Apollo 12, had died from injuries sustained in a motorcycle accident in Ojai, California. "Ojai," incidentally, is a Native American word for moon.
Duke plainly stated, "Now there's only nine of us," words that stuck in Smith's head for years. Then he finally decided to pursue the answer to the question, "Where do you go after you've been to the Moon?" by tracking down all the surviving Moonwalkers to see how their lives were changed by their experiences and what they've been doing since their lunar days.
I devoured this book that summer, and I still think about it periodically, but it wasn't until the coming of the 40th anniversary of the first moon landing that I picked it up again.
Just like the first time, I became fully engrossed in the stories of these extraordinary men who accomplished things I can't begin to wrap my head around. Smith does a fantastic job of transporting the reader right there before, during, and after the moon landings, putting human faces, dreams, and feelings to names I'd only heard of.
Yes, Smith's narrative could have been a little less about him and apparently there are some rather glaring factual errors (not that I could have picked them out), but none of that mattered to me. All I wanted to do was sit down with the Moonwalkers and just listen, and Smith's Moon Dust gave me the chance to do just that — in many instances leaving me with even more questions about the men who walked on the moon, the space program's past, present, and future, conspiracy theorists' beliefs that the moon landings were a hoax and never actually happened, and so many other things I hadn't even considered before I read the book.
Just like an excellent nonfiction book should.
Whether you were alive or not on July 20, 1969, I highly recommend this book for an amazing look into the minds, hearts, and souls of nine of the 12 most interesting men to have ever walked the earth — and the moon.
What do you associate with the July 20, 1969 moon landing?
*
Subscribe to my Book Reviews feed — book reviews ONLY, which aren't published to the main feed — by visiting Feedburner.
13 Beans of Wisdom to "Commemorating the Real Moonwalkers: Andrew Smith's Moon Dust"
---